Optimize power distribution with Eaton
Increase efficiencies and reduce operating costs with improved power distribution
---
While UPS protects your IT application, power distribution takes care that the power from the UPS is distributed between IT appliances you have in your rack. Modern power distribution units can also help optimize IT efficiency, lower costs and improve business continuity.
The right approach
The next generation of Eaton advanced rack PDUs (ePDU G3) incorporate monitoring and management capabilities. So, in addition to distributing power from the UPS to your IT appliances safely and efficiently, modern distribution units will enable you to monitor and measure power consumption in an IT rack, remotely shut down power during an outage, and help initiate disaster recovery policies.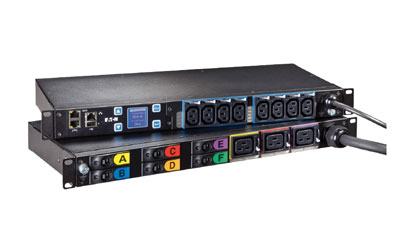 Eaton has complemented its range of 0U ePDUs with new 1-2U ePDUs, which are the ideal choice for converged and hyperconverged infrastructure or wall-mount enclosures. These new ePDUs are able to operate in hot environments, ensure accurate energy metering to track power consumption and in combination with environmental sensors help initiate disaster recovery policies in virtual environments.
For more information visit www.eaton.eu/epdu.
Optimizing Power Distribution white paper. Download the white paper and uncover in-depth insights on the capabilities businesses should look for when selecting rack PDUs.
---