Eaton Power Management Guide
---
Modern businesses need a better response to ever-changing market dynamics and competitive pressures. Increasingly, this need is shaping computing infrastructure strategies and set higher requirements for IT departments. Business continuity has never been more critical. Scalable, flexible and compatible IT infrastructures are rising up the agenda. Reducing operational costs and cutting energy consumption remain urgent imperatives.
The response? A fresh focus on high-density computing, advanced networking methodologies, and more efficient ways of managing assets.
Power management is an area which can easily be overlooked in these efforts to optimize the infrastructure. That's a huge mistake: wherever you are, whatever you do, power can fail, causing devastating consequences to IT infrastructure and the business overall. With that in mind, organizations need a robust intelligent power management strategy if they want to fully reap the benefits of their modern IT architectures and avoid business continuity risks. A strategy that means the organization can always be confident of efficiency, low costs, and business continuity.
It may sound complicated, but in fact all it takes to build a proper power management solution or optimize the existing one is just five steps.
Download the Eaton Power Management Guide, optimize your power management and look forward to:
Increased efficiency
Better business continuity
Stronger growth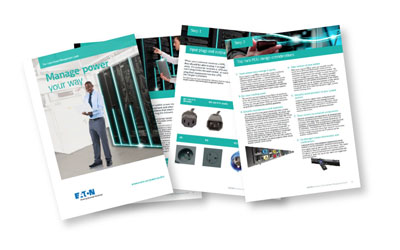 Eaton Power Management Guide. Download the comprehensive guide offering a wealth of information to help you design the optimum power management solution for your IT environment
---