Intelligent Wiring creates transparency for system builders
Read the white paper to discover more
---
Todays engineers have to consider a variety of influencing factors when designing an application, especially in wide spread systems that require sensors and actuators inside and outside of cabinets. Change requests may be placed by the end customer either during commissioning or when the system is already in operation. The provision of additional system data, to allow condition monitoring and predictive maintenance, is also becoming a system feature that is more and more requested.
This white paper by Heribert Einwag, product manager at Eaton, is an essential read for those looking to handover their applications faster, still remaining flexible, with lower costs and higher profitability for the end user.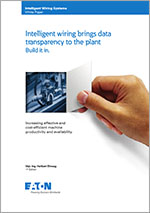 Please fill the form to download the white paper and discover more.
---