Reliable circuit protection
Read the white paper to discover more
---
A key element of any machine's reliability and safety is effective circuit protection. However, with many types of electrical faults, and with thousands of circuit protection solutions available, it is a challenge to know where to start and which technology is the most appropriate for a given application.
This white paper by Dr. Peter Terhoeven, R&D manager at Eaton, is an essential read for those looking for comprehensive knowledge of the applicable standards and the technologies that exist, supporting machine builders in developing and delivering the solutions their customers need.
His expertise enable you to overcome increasing system complexity and mitigate the risks of incidents, both to staff and to productivity goals, by addressing specific issues including short circuit and overload, overvoltage, arc fault and residual current protection.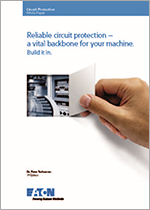 Please fill the form to download the white paper and discover more.
---