There is an alternative to outdated wiring
Read the white paper to discover more
---
With increasing pressure on margins and shorter lead times, machine builders are taking advantage of every opportunity to maximise manufacturing speed and efficiency.
Fieldbus systems have replaced conventional wiring in more complex applications as they offer many distinct benefits: they save money and time, are easier to design, offer flexible functionality through individual parameterisation and aid the rapid identification and diagnosis of faults.
Now these same benefits are available for more simple devices which have traditionally used individual wiring, either within the panel or to connect to peripheral devices.
In this paper Heribert Einwag, Product Manager at Eaton, asks: what possible reason can there be for continuing with conventional wiring?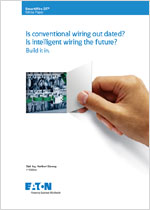 Please fill the form to download the white paper and discover more.
---