On March 6, Eaton Mobile Tech Day started its journey from Phuket, Thailand, where we also announced the launch of our latest hi-tech electricity protection solution Power Defense™ molded case circuit breakers (MCCB).
The Mobile Tech Day has been organized for the first time in South East Asia to allow visitors from both business and the general public to learn about our industry leading technologies and solutions that answer some of the world's toughest power management challenges.
Packaged smartly in an 11 square meter showroom are Eaton's tailor-made power management products and solutions for the local market – targeted specifically on key segments including Data Centers, Machinery OEMs, and Oil & Gas.
Following Phuket, the Mobile Tech Day will tour around Thailand until the end of April – covering major locations across the country including Bangkok, Saraburi, Surat Thani, Had Yai, and several provinces in the northern and eastern regions before moving onto Malaysia.
Commenting on Eaton's focus on Thailand, Jimmy Yam, Vice President, Sales, Electrical sector for East Asia, Eaton, said, "Thailand is one of the most significant markets for Eaton, with a robust growth in the Electrical sector. The government's USD 61 billion plan to upgrade rail, air and water transport is expected to boost the country's GPD growth by 0.3 to 1% each year and stimulate higher private-sector investment. Our vision is in line with government policy to improve the quality of life and the environment by offering innovative products and solutions that increase power stability, efficiency, sustainability, reliability and safety while reducing costs of operations that still maintain and ensure a successful of business outcome."
In conjunction with the Eaton Mobile Tech Day, we held 2018 East Asia Partner Summit in Phuket, where Eaton and more than 70 Partners from 9 East Asia countries gathered to discuss the latest development in energy-efficient solutions and toured the mobile exhibition showcasing Eaton's latest products and solutions.
Route plan

March 12–14, 2018 Phuket, Thailand
March 16–19, 2018 Hadyai, Thailand
March 21–23, 2018 Chonburi, Thailand
March 26, 2018 Bangkok, Thailand
March 28, 2018 Samutprakarn, Thailand
April 2–4, 2018 Chonburi, Thailand
April 9–10, 2018 Bangkok, Thailand
April 19 and 23, 2018 Chiangmai, Thailand
April 24, 2018 Lumpang, Thailand
April 25, 2018 Phitsanulok, Thailand
April 26, 2018 Saraburi, Thailand
May 3, 2018 Nonthaburi, Thailand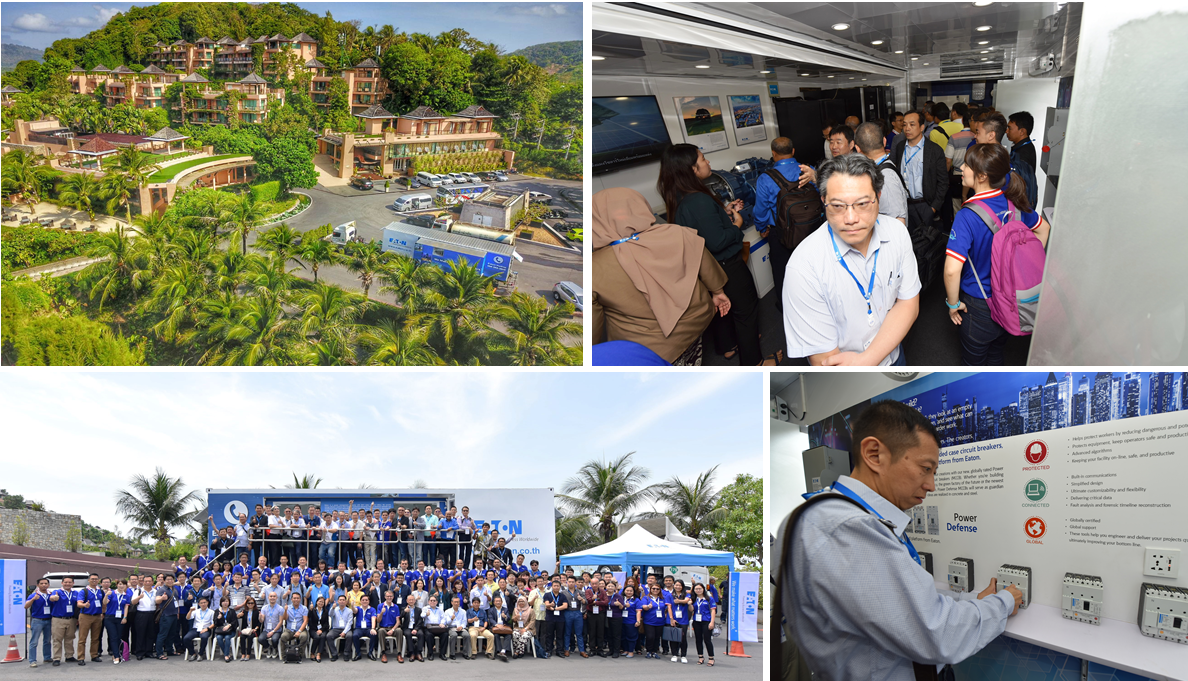 ---