Flexible drive technology for pumps and motors that is also easy to integrate
Cost effectiveness in drive technology is not merely a question of energy efficiency. For machine builders and system integrators, efficiency is a primary concern already during the planning and commissioning phase: Are features such as multi-pump controls standard, as is the case with Eaton's DG1, or do they have to be planned, installed and configured separately? Ease of use is one of the defining features of the PowerXL™ series: The "out-of-the-box" commissioning of a DE1 unit is almost as easy as that of a motor starter. The IEC-compatible DB1 is the newest addition to the series. This "plate unit" is easy to integrate even in systems where space is tight.
---
Integrated technologies for more efficient, safer and more intelligent machines and systems.
---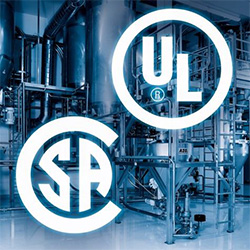 Exports to North America
Given the high degree of complexity and the constant changes, exports to North America pose a great challenge for many machine builders. For example, the new NEC 2017 rules on short-circuit current rating (SCCR) affect not only the SCCR requirements themselves, but also the labeling and documentation of devices.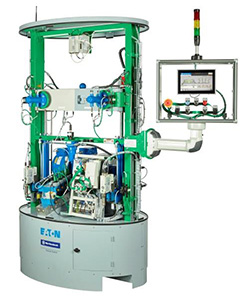 Training machines to become Industry 4.0-ready: a holistic approach
Our electro-hydraulic precision machine demonstrates how easy it is to achieve greater degrees of energy efficiency, performance capacity and IoT integration - with integrated solutions that will create added value for your customers. The data generated by our intelligent system components is transferred directly into the cloud. Based on the subsequent data analysis, you will then be able to improve production capacity, product quality and uptime while reducing maintenance needs.