Current-limiting devices: Strengthening the weakest SCCR link
---
Research indicates that more than half of OEMs design their machines to a typical minimum equipment SCCR of 5kA. However, with the new NEC code, valid after January 2017, it is possible that many equipment installations will not be code compliant or approved. Suppliers such as Eaton, with major operating footprints in North American and IEC markets, are fully aware of global regulation updates.

This white paper explores the standards and best practices for determining equipment SCCR and the approved methods to increase ratings. With an appreciation of best practices, OEMs can build equipment with enhanced safety and reliability, designed for a larger range of available fault currents, and this in turn ensures they can better support their end user customers.

Register to download the white paper.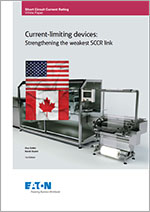 Please fill the form to download the white paper and discover more.
---