Entry into industry 4.0 with secure cloud communication for machine and system builder
---
In a white paper on the subject of "IoT solutions for industrial applications," shows how medium-sized companies from the machine and system building industry can get started with Industry 4.0. In addition secure and simple solutions that can not only make existing machinery ready for the digital future with IoT, the cloud, and Industry 4.0, but that also comply with regulations concerning collected data, have been missing from the picture to date. That is where Eaton and T-Systems come in: By combining their know-how regarding the Internet of Things (IoT), the companies intend to help medium-sized companies dive right into Industry 4.0.

The white paper, written by Dr. Stefan Braun, Head of Product Lifecycle Management & Digital Transformation Solution Consulting at T-Systems, and Karl-Heinz Arndt, Product Strategy Manager at Eaton, covers the challenges and hindrances that companies need to overcome in their path to Industry 4.0, which is seeing production technology, logistics, and information and communication technology become inextricably interwoven with each other. The alliance between both companies will enable medium-sized companies to benefit from comprehensive know-how in the areas of industrial automation and the transformation of digital business processes. The result? Jointly developed secure solutions for integrating machines into IoT environments, covering everything from data acquisition at circuit-breakers, through secure transfers to Telekom's cloud, all the way to the provision of processed and secure data from the cloud. And thanks to the use of highly secure German servers, customers can rest assured knowing that all collected and stored data will be handled in compliance with the German data protection regulations.

Another important aspect is how collected data will be processed and presented to users. This is why Eaton and T-Systems are developing methods and services for analyzing this data and rendering it usable, with some examples including visualizations, alarms, and analyses that can optimize maintenance intervals based on predictive maintenance algorithms. Accordingly, the authors use various application examples to explain just how these made-in-Germany cloud services can provide tremendous added value in terms of predictive maintenance, power management, online support, and anomaly detection.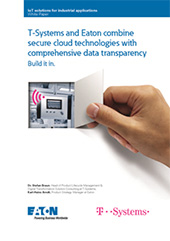 Please fill the form to download the white paper and discover more.
---
---