Why xStorage Buildings?
Technical
News room
Register interest
Energy storage for Buildings: designed and built for sustainability and resilience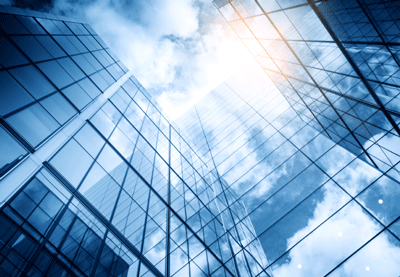 The world of commercial and industrial buildings is being challenged by:

• Rising electricity costs and complexity
• More distributed energy resources
• Greater adoption of demand response programs
• Increasing complexity of building energy management systems
• The need for resiliency and power quality

Eaton Nissan xStorage Buildings selects the right power sources according to the load, the grid constraints and the availability of renewable energy.

This system allows end users to store energy once produced so that it can be used on demand to power the business or to participate in demand response programs selling energy back to the grid.
Benefits

Save money on electricity and operational expenses
• Manage load shifting/ demand
• Generate self-consumption of PV
• Enable peak shaving
• Maximize feed-in tariff opportunities to sell power back to the grid
• Ensure regulatory compliance


Optimize use of renewable energy
Maximize consumption of onsite generation, primarily solar energy.

Maintain power when the grid is down
• Ensure backup power supply in case of natural disasters
• Protect equipment from damage during blackouts
• Reduce time of restart


Safe Technology
• Industrialised, tested and configured to deliver high levels of quality, reliability and performance
• Eaton as a 100-year power management company and Uninterruptible Power Supply (UPS) leader brings a depth of experience that is unmatched by most storage players
• Nissan is the leader in Electric Vehicles and as such is a proven, high volume, maker of reliable Li-Ion batteries that meet the high safety standards of the automotive market


Customer Service
Supported by a network of over 1,000 distributors, working with qualified

installers in 77 countries.
xStorage Buildings is not simply batteries and bi-directional inverters which send power to/from the batteries, but instead, the creation of multiple capabilities in a single system. It brings together the following abilities:
• Providing uninterrupted, high quality power
• Integrating renewables directly into the energy supply
• Storing energy
• Supplying power off-grid
• Participating in demand response programs
• Selling energy back to the grid
How it works
xStorage Buildings is a single unit that combines several aspects of energy storage & needs in one system. This functionality includes multiple energy inputs such as solar and the grid, battery storage using 'second life' Nissan Leaf batteries, and UPS capabilities for clean, balanced power delivery.
This system allows end users to store energy once produced so that it can be used on demand to power the business or to participate in demand response programs selling energy back to the grid.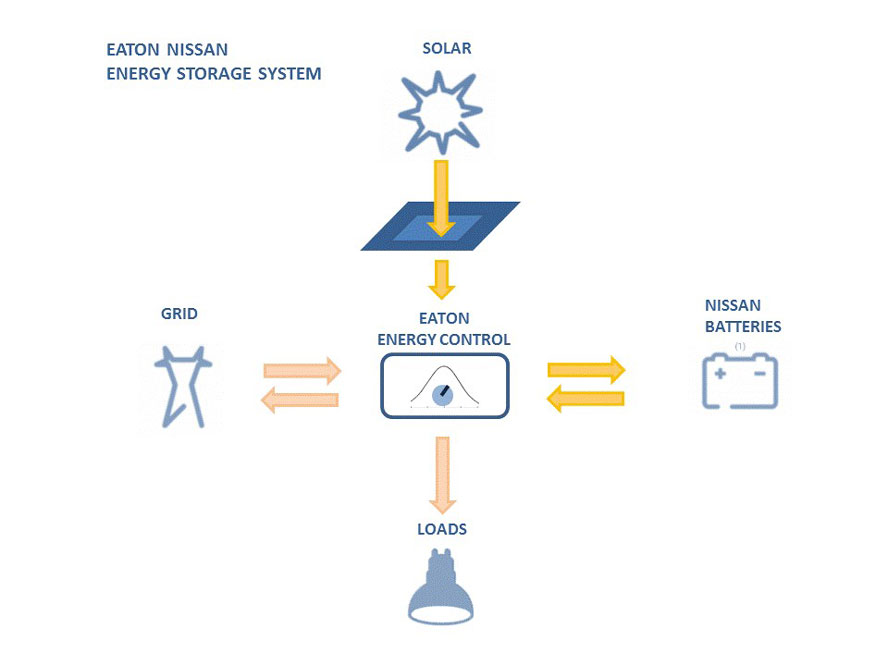 Specifications
Storage capacity
• From 24 kWh to several MWh when using strings of 5 battery packs
• Battery pack capacity:


• 4,2 kWh - Second life batteries
• 6 kWh - New batteries
• 7,5 – 9,6 kWh - New batteries available end of 2017

Output
230/400V, 3~ + N
Power
From 20kW to several MW
Installation
• Fits in 19 inch standard racks (EIA-310-E)
• Up to 10 battery packs per 42U rack

Operating temperature
5°C – 40°C
Battery life
~10 years - Estimate based on 1 daily full cycle usage
Efficiency
Online (on utility grid): >96%
Battery mode: >95%
UPS features
Up to 97% efficiency in double conversion
>99% efficiency with Energy Saver System
Compact footprint
News room
You can access latest press releases, articles and media kit about xStorage Buildings here.
We will be happy to help you with media inquiries
Articles
June 21
usinedigitale.fr
Près du Havre, Webaxys inaugure un datacenter alimenté au solaire et par des vieilles batteries de Nissan

lalettreducloud.com
Webaxys inaugure le « datacenter le plus green
Press releases
Eaton Equips the First Data Centre in France with Energy Storage
June 2016

The use of battery storage at Webaxys' new data centre enables the effective integration of renewable energy

SLOUGH … Power management company Eaton has announced that its energy storage technologies, developed in collaboration with car manufacturer Nissan, have been implemented in Webaxys' newly launched data centre in Saint-Romain de Colbosc near Le Havre, France.

Webaxys - a host and telecoms operator, has always pursued an innovation strategy based on strong values of social commitment and respect for the environment ever since it was established in Normandy, France back in 2003.

"In addition to relying on electricity generated entirely using renewable sources and the optimisation of energy efficient technologies already used in our first data centre, we wanted to go further and commit to reducing our energy dependency using all the innovations at our disposal to minimise our environmental impact," said Emmanuel Assié, CEO of Webaxys. "We are also developing a local strategy by promoting the establishment of data centres designed on a human scale that are fully integrated into the local economy and closer to the customers who trust their data to us."

Stéphane Egros, Marketing Director at Eaton Industries France, said: "We are delighted to work with Webaxys on this project which has really motivated our teams to make these new technologies operational on a production site."

"Webaxys is a pilot site in Europe and highlights the importance of our battery energy storage solution developed in partnership with Nissan, the world leader in electric vehicle sales. This system combines the cutting-edge technological know-how of Nissan, which produces its own batteries, and the excellence of our associated electricity management systems."

Incorporating renewable energies such as solar power, which is, by its nature, intermittent into the operation of data centres, where power cuts cannot be tolerated, means that this energy has to be stored. Eaton rose to the challenge and, in 2013, helped launch the GreenDataNet consortium which was financed by the European Commission. Led by Eaton, the project aims to develop new technologies enabling the creation of smarter, more energy efficient urban data centres.

In late 2015, Eaton entered into a partnership with Nissan to deploy energy storage and management solutions in a commercial environment. Nissan batteries, which are used at full capacity in the Leaf saloon, the world's best-selling fully electric car, are given a new lease of life in this application. This eco-responsible approach helps to maximise the use of batteries before they are recycled, minimising the use of natural resources.

This is the first time that the technology being implemented at Webaxys has ever been used at a computer production site to comprehensively manage the power grid, renewable energy contributions and battery storage, by optimising their use and ensuring maximum operating quality.

The new Webaxys data centre incorporates solar power and an optimised air-to-air cooling system. All the infrastructure equipment for the data centre has been supplied by Eaton.

Enhanced by these new smart storage features, Eaton's product portfolio can now meet all the energy management needs of a data centre, with uninterruptible power supplies, surge protectors, electric power distribution products, energy management software, communication interfaces, computer rack solutions and solutions for the management of airflow, lighting, security systems and associated customer services.

###
About Eaton
Eaton's electrical business is a global leader with expertise in power distribution and circuit protection; backup power protection; control and automation; lighting and security; structural solutions and wiring devices; solutions for harsh and hazardous environments; and engineering services. Eaton is positioned through its global solutions to answer today's most critical electrical power management challenges.

Eaton is a power management company with 2015 sales of $20.9 billion. Eaton provides energy-efficient solutions that help our customers effectively manage electrical, hydraulic and mechanical power more efficiently, safely and sustainably. Eaton has approximately 96,000 employees and sells products to customers in more than 175 countries. For more information, visit www.uk.eaton.com.
About Nissan in Europe
Nissan has one of the most comprehensive European presences of any overseas manufacturer, employing more than 17,000 staff across locally-based design, research & development, manufacturing, logistics and sales & marketing operations. Last year Nissan plants in the UK, Spain and Russia produced more than 635,000 vehicles including award-winning crossovers, commercial vehicles and the Nissan LEAF, the world's most popular electric vehicle. Pursuing a goal of zero emissions and zero fatalities on the road, Nissan recently announced its Intelligent Mobility vision. Designed to guide Nissan's product and technology pipeline, this 360 degree approach to the future of mobility will anchor critical company decisions around how cars are powered, how cars are driven, and how cars integrate into society. Nissan is positioned to become the most desirable Asian brand in Europe. www.newsroom.nissan-europe.com
About Nissan Motor Co., Ltd.
Nissan is a global full-line vehicle manufacturer that sells more than 60 models under the Nissan, Infiniti and Datsun brands. In fiscal year 2014, the company sold more than 5.3 million vehicles globally, generating revenue of 11.3 trillion yen. Nissan engineers, manufactures and markets the world's best-selling all-electric vehicle in history, the Nissan LEAF. Nissan's global headquarters in Yokohama, Japan manages operations in six regions: ASEAN & Oceana; Africa, Middle East & India; China; Europe; Latin America and North America. Nissan has a global workforce of 247,500, and has been partnered with French manufacturer Renault under the Renault-Nissan Alliance since March 1999.
Media Kit
Contact us
Julia Tisserant
+41 21 811 4639
JuliaTisserant@Eaton.com

Jonathan Hart
+41 21 823 47 15
JonathanHart@eaton.com