Introducing Ethernet over Coax
Eaton is pleased to announce the launch of its Ethernet over Coax range, offering multiple benefits to both existing and new Eaton HERNIS customers.
The only technology of its kind on the market, the Ethernet over Coax system will allow IP data to be transmitted across existing analogue cabling, resulting in customers being able to upgrade to a highly superior IP system without the disruption and cost of replacing all cabling in the installation.
This upgrade solution using Eaton's Ethernet over Coax is perfect for those wanting to benefit from the use of the new HERNIS HD IP FLEX system, including full 1080P HD resolution, and a small central rack, at a reduced installation cost and time.
Furthermore, the Ethernet over Coax solution can be utilised in new installations to exceed the transmission distance limitation found in Ethernet cables from 100 metres up to 500 metres.
This system upgrade is available with a wide range of our CCTV camera stations including Ex and safe area ranges of PTZ, dome and fixed cameras.
For more information on the HERNIS Ethernet over Coax solution, please contact your local Eaton sales representative or visit www.eaton.com/hazcomms.
Overcome distance limitations at a lower cost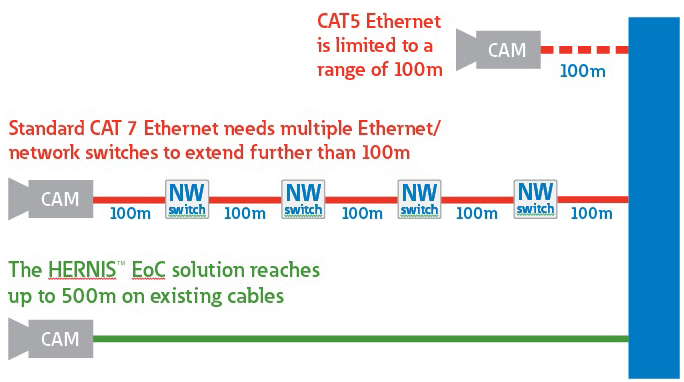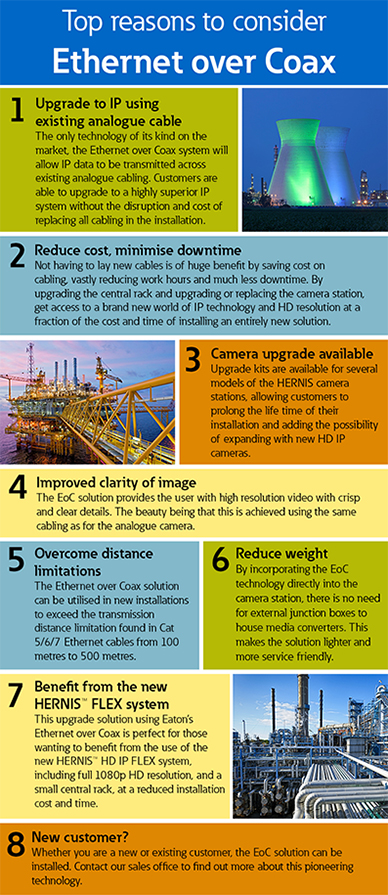 Please fill in the following details: