Become an Authorized Partner
We know that you work hard to help your customers achieve their business goals, and we want to help you ensure that you are successful in doing so. That is why we have developed a UK partnership programme so that we can support you in delivering your services more quickly and efficiently, helping you to win more business.
The Eaton Authorized Partner programme is our way of recognizing our long-standing relationships with System Integrators throughout the UK. We want to build on these relationships by working closely with you, supporting you as you grow your business.
With 3 levels of partnership, Partner, Advanced and Expert, to recognize your commitment as you grow, you can enjoy a wide range of benefits.
The benefits include:
Exclusive access to key products
Buy directly from us as a manufacturer
Customer support
Area Sales Manager supporting your business
Technical support
Training
Certified CPD courses
Marketing support
Partnership with a globally recognized brand helping you to grow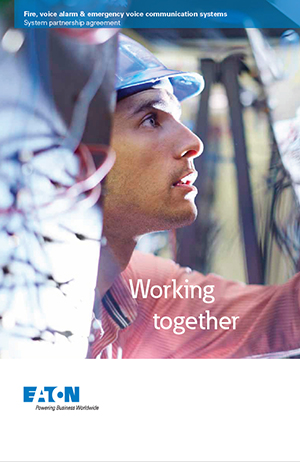 Eaton is a global leader in fire notification products, built on industry recognized names of Cooper, Menvier and JSB, with 40 years knowledge of fire alarms for commercial buildings from Fulleon.
Interested in becoming an Eaton Authorized Partner or Distributor?

Just let us know by completing the form below.