Uw sprekers op de Eaton TechnoDag Internet of Things
---
Tijdens de TechnoDag zullen sprekers van T-Systems, Extend Smart Coding en Action Learning Academy u bijpraten over het thema's als Internet of Things, object georiënteerd programmeren, Smart Industry, veilige cloud solutions, predictive maintenance en verandermanagement. Maak alvast kort kennis met de sprekers:

Geurt van Bennekom - Eaton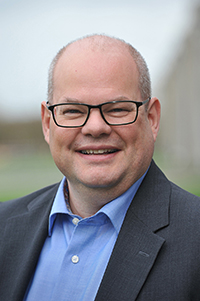 Geurt van Bennekom is op 1 januari 1998 begonnen bij Eaton (toen nog Moeller). Hij werkte 10 jaar als automatiseringsspecialist bij Technical Support. Sinds 2008 is hij de Product Manager voor het industriële productenpakket. Zijn productkennis omvat het schakelen en beveiligen van motoren, aandrijftechniek, automatisering en bediening en signalering. Voordat Geurt bij Eaton begon heeft hij ruime internationale praktijkervaring opgedaan in de machinebouw. Naast zijn verantwoordelijkheden bij Eaton is Geurt sinds 2006 actief bij het ROVC als docent automatiserings- en besturingstechniek.

Lees de blogs van Geurt over thema's als UL, Industry 4.0 en HMI/PLC of bekijk zijn introductievideo.
Jos Grob MBA – Action Learning Academy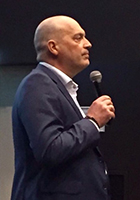 Jos Grob MBA is medeoprichter van de Action Learning Academy en begeleidt organisaties en mensen in transities waarbij het aandachtspunt ligt op het verbeteren van de samenwerking en leiderschap bij het oplossen van complexe vraagstukken. De Action Learning Academy is trendsetter in Nederland als het gaat om vraaggestuurd trainen, coachen en ontwikkelen van mensen op hun werkplek. Leren en presteren staan hierbij centraal. Daarnaast is Jos senior Action Learning Coach en docent bij verschillende Business Schools. Tijdens zijn presentaties worden inzichten, inspirerende eye-openers en praktisch toepasbare tips verbonden aan Action Learning.
Markus Lindemann – T Systems International GmbH
Since 2012, Markus Lindemann has been responsible for the Global Competence Center (GCC) Embedded & M2M Solutions at T-Systems International GmbH, Bonn. Within the scope of this activity, he is responsible for the development of innovations, portfolio development, and pre-sales support in the areas of Internet Of Things (IoT) and Machine-2-Machine (M2M). He is electrical engineer (Diplom-Ingenieur) and was active in the field of information technology (IT) with the main focus areas of warehouse logistics, vehicle electronics, telematics, embedded, machine learning, M2M and IoT in many customers and in various industries.

Since 2016, he is deeply involved in developing the partnership with Eaton in the field of digitalization of industrial machines: IOT for Machine and System Builders.

Meet Markus Lindemann in this video of the Hannover Fair 2017.
Tim van Heijst – Extend Smart Coding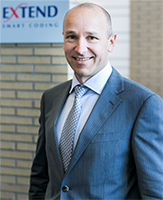 Tim van Heijst heeft na zijn HTS opleiding bij verschillende leveranciers van automatiseringscomponenten gewerkt. Door de grote vraag naar hardware onafhankelijke specialisten, en zijn inmiddels jarenlange ervaring met CODESYS, heeft hij in 2011 de firma Extend Smart Coding opgericht.

Extend Smart Coding is de hardware onafhankelijke CODESYS specialist en richt zich als CODESYS System Partner op het geven van trainingen en het maken van applicaties. Sinds 1 december 2012 is Extend Smart Coding naast CODESYS System Partner tevens de exclusieve CODESYS distributeur geworden op de Nederlandse markt en in de gehele Benelux.

Extend Smart Coding organiseert tevens, in samenwerking met 3S-Smart Software Solutions, jaarlijks de CODESYS Users Conference Benelux in Nederland, waarbij Tim van Heijst reeds 9 jaar spreker is. Daarnaast is hij de afgelopen jaren gastspreker geweest bij vele andere evenementen zoals o.a. bij de Automationday at Festo, User Inferface Design Seminar, evenement van Advantech.