Operating concepts for the next generation of machines:
Mobile operation – multi-touch – role concepts – cloud connection
---
User based machine operating concepts for  factories of the future are oriented around user habits we recognize from smartphones and tablets. Touch and gesture controls have been integrated into operating panels and are also part of the connections between cloud services and operating devices.
The next generation of machine operators expects a human-machine interface that meets the standards they are used to finding on their personal mobile devices in their private lives. In the work environment, new smart devices are appearing in more areas than just management and distribution. Production managers and service employees in the industry are also benefitting from having machine statuses, data sheets or service plans constantly accessible from anywhere via the web. The result: Reduced machine downtime and increased productivity.
In his white paper "Designing and developing control systems that truly meet the needs of users", Simon Sittig, a researcher at RWTH Aachen University, explains how the Industry 4.0 environment controls an ever growing influx of information and can be used to increase efficiency. Here, role concepts can be used to ensure that only relevant data is allocated to a particular user group. By adjusting information to a given work situation, the working context, the information can be prepared in an even more targeted way. He also discusses the use of new technologies such as smart watches, which are better known for their application within the consumer environment.
You can also read our white paper "Innovative operating concepts for the next generation of machines" in the "Further Information" section. It looks at the conflicting priorities between new design options for operating panels and compliance with the relevant standards and guidelines. In addition, the paper examines the human-machine interface as part of the overall system architecture.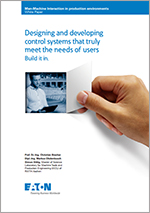 Please provide us with some information and download the white paper.
---